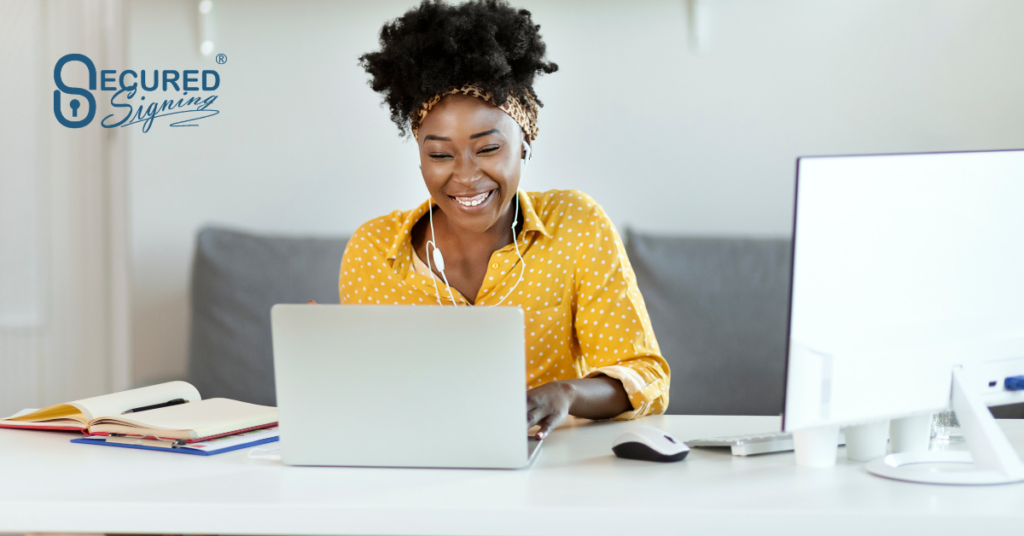 Remote Online Notarization, or RON, can be a novel and daunting prospect but this technological alternative to physically notarizing documents has its benefits.
The use of audio-video, digital signature and digital certificate technology allows you to conduct your notarization sessions over the internet rather than in person. With technology becoming more affordable and internet connectivity becoming increasingly faster, RON is now a viable option for Notaries Public.
If you are a Notary Public, consider these benefits when deciding to utilize a RON platform within your own notarization business. These benefits may help you take the leap and see why many Notaries Public across the US are adopting this new way of doing things.
Your safety is paramount
Notarize documents from the safety of your own home – an all-in-one RON platform allows you to notarize documents from anywhere, anytime, on any device. No need to worry about meeting clients in foreign locations.
Work efficiently and remotely
A RON session can be completed from within the comfort of the Notary Public's home and cover distances as wide as your state's borders. With no travel time, notarize more documents and increase your earning potential.
Reduce paper, printing, and postage
Remote online notarization fully digitizes the notarization process which means no more paper, printing, or postage. Gone are the stacks of paper, FedEx courier bags, and countless empty ink cartridges. The noticeable reduction in your operating expenses will allow you to enjoy the savings within your bank account. We know that when operating a business, every cost saved counts.
Improve and speed up your overall notarization process
With everything digitized, you can get things signed, notarized, and e-mailed away all in the same day. These documents can be stored, filed, and easily searched for on your computer improving storage and recall of information, if required.
Securely sign and notarize
Depending on your RON provider, the documents that you are signing, and notarizing are just as secure as what the physical versions would be – even more so! The use of digital certificates (such as from IdenTrust), identity proofing, credential analysis allow you to protect yourself against identity fraud, ensuring the people who are on the other side of the RON session are who they say they are.
Use an Electronic Notary Journal
Using RON means there is no need to carry that notepad you've been using for years around with you. From your basement flooding to accidentally misplacing your notepad with all your notarization records, rest easy knowing that an electronic notary journal has all the key information logged and securely stored digitally.
Improved client experience
We have mentioned all the benefits that the Notary Public will get when using RON, but what about the client? Clients reap all the same benefits as the Notary Public- security, speedy notarization processes, less traveling, less time, less hassle. Once a client experiences RON they will be recommending you to their family, friends, and co-workers whenever a document needs to be notarized.
So, what are you waiting for?
Secured Signing, a digital signature and digital forms company, provides a Remote Online Notarization platform, built for Notaries Public. After months of testing and Notary Public feedback, their platform is now up and running and ready to be used for RON sessions.
Interested? Contact Secured Signing now to request a demo, or visit their website here.